Walton Ridge
The lifestyle you have always imagined has never been more affordable. At Walton Ridge mobile home park community, you'll enjoy beautiful new and newly remodeled mobile homes tucked into a serene, lakeside setting. Galloway Creek and acres of nature preserves add to the peaceful surroundings in our mobile home park. The home sites are spacious sites to accommodate the largest and most luxurious multi-sectional, double wide homes.
The community offers a great central location on the border of Auburn Hills and Pontiac and provides you with privacy and peaceful living at an affordable price, conveniently located between these two booming areas of town. There are many new and exciting things happening in Auburn Hills and Pontiac such as the M1 Racetracks, Great Lakes Crossing, Chrysler headquarters and a huge renewal of business and restaurants in Pontiac. The park is also conveniently located near major highways.
Gemstone Communities provides affordable living and vibrant communities where residents can thrive, creating a true sense of home and belonging. Visit our Communities Facebook Walton Ridge Social page to hear more about community social events and news about our community.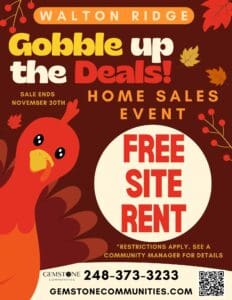 Close to shopping

New major highways

Our neighborhood

Spacious home sites

Suburban living